The Hoarder's Place
Locked in a windowless building, Luna was basically kept in solitary confinement and only occasionally given food and water. That would be enough to mentally break plenty of humans (myself included, probably), yet dogs tend to be resilient creatures. And Luna did not let her dark experience dim her inner light.
I first saw Luna's bright, happy face on Rescue Me, a website that allows pet owners and rescuers to post and find animals that need to be rehomed. (I've mentioned before about having alerts set on Craigslist, so that I get an email notification whenever a Collie is posted. I confess it's not the only site that informs me of Collies in need.)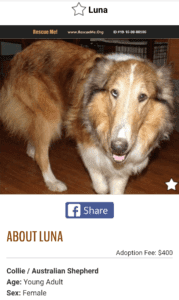 Luna's ad read:
"This pretty girl is Luna. She is not only an eye catcher; she has the sweetest disposition. Luna came from a bad situation a couple of months ago… But all that is behind her and now all she knows is happiness – with lots of love and attention."
Having one eye that is partially blue, Luna was originally listed as a Collie/Australian Shepherd mix. The confusion is understandable, as not even many Collie people know sable merles exist. Unlike blue merles, sable merles are the more "subtle" merles.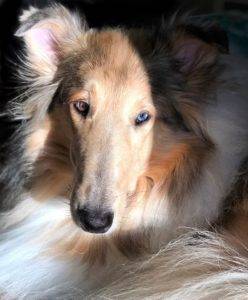 Thinking that Luna might more easily find a new home if she were posted as a purebred, I emailed Tracy at Northwest Georgia K9 Rescue and explained that Luna looked like a sable merle Rough Collie to me. Tracy could have easily been annoyed with me, but instead she changed Luna's ad to read "Collie" and very patiently corresponded as I pestered her for updates on Luna's progress.
It had somehow became imperative for me to learn how Luna's story ended.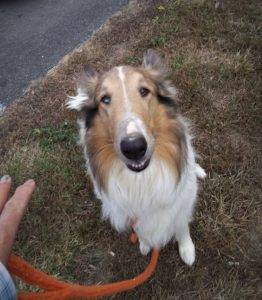 Other Inmates
While Luna had been confiscated from a bad hoarding situation, without regular access to water, some of the individual cases of neglect were far worse than hers had been. One of the other "inmates," Nala, had been nursing 7 puppies and was essentially a walking skeleton before the ASPCA swooped in to save her.
Nala deserves some kind of mommy medal for doing everything in her power to keep her babies alive while suffering from severe malnutrition and mastitis. She had eaten whatever was within reach, including a leash, collar, and plastic, in a risky attempt to get some nutrients and keep her milk supply from drying up. Tracy sent this picture of Nala, saying, "It gives you some idea of where Luna was headed."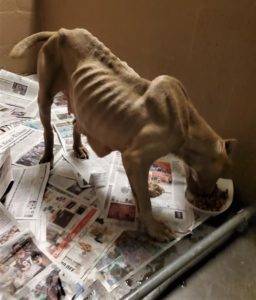 Being young, in much better condition than Nala (though still underweight), and possessing fairly good manners, it's reasonable to assume that Luna had previously belonged to someone who had cared for her. There's a good chance she had not been stuck in that dark building for long, although she'd been without adequate care long enough to contract heartworms.
Also rescued from the same hoarding case was an 8 pound (3.63 kg) Chihuahua/Terrier mix named Alex, whose entire existence had consisted of living outside in a crate – exposed and unprotected – hidden behind a pile of junk. He was also heartworm positive. Though Alex and Luna had lived on the same property, given their separate confinements, they may have never met prior to being extracted and given over to Tracy's keeping.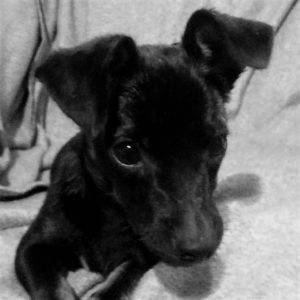 Friends at the Rescue
But at NWGA K9 Rescue, Alex and Luna met and "instantly bonded," according to Tracy. She also said that Luna was "such a happy girl to be inside a home with other dogs… She has done well with everyone she meets." In addition to little Alex, she befriended Freddy, a dangerously obese Beagle – at 40 pounds! – who had come to Tracy's rescue from elswhere.
Tracy does her best to get each dog healthy before finding it the perfect home. Luna received vaccinations, as well as being spayed and treated for heartworms, which required her to have a month of low activity and down time. Tracy told me she had been in contact with a woman named Lisa, a potential adopter for Luna, who had previously rescued Collies and Shelties. Tracy set up a meeting with Lisa and agreed to keep me posted.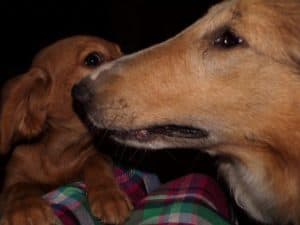 Alex, at just 7 months old, had not received adequate nutrition or exercise for his tiny body to properly develop. Tracy said after a couple months with her at the rescue, he was "catching up on his growing, as good as new, and full of himself." Little Alex has not been adopted yet, perhaps partly due to the fact that his teeth are literally too large for his small mouth. Some people may find it off-putting, but to Tracy, he is just showing off his pearly whites and smiling.
"Fat Freddy" required special, ongoing veterinary care for inflammation in his heart and lungs from the heartworm damage. Tracy said he is steadily improving and losing weight, but unfortunately his age (maybe 7 years young) and size are not very appealing to the average person. Despite this, he is actually an active boy who loves walks and car rides.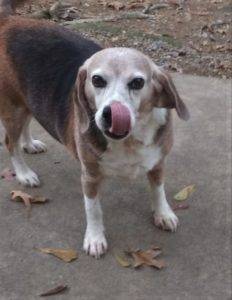 Because Nala was in such poor condition, Tracy and her vet chose to separate her 3-week-old puppies from her and bottle feed them for the sake of her health. After 10 weeks of getting healthy, they were transferred to another rescue that found fantastic homes for all 7 of them.
Nala was taken in by a volunteer for rehabilitation, and Tracy got to see her again when her foster mom brought her to be spayed at the veterinary clinic where she works. Tracy said Nala was beautifully filled out at 75 pounds, and "the best part of it all is that the foster mom is keeping her!"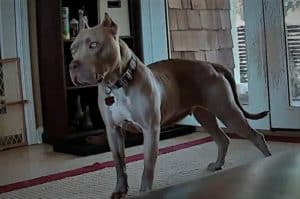 When I asked Tracy about her adoption process, she said, "I'm not your typical rescuer, as far as adopting my dogs to whoever wants them. I search for the perfect, ideal situation. After all, it's all about THE DOG."
Tracy said that Luna would come to her and "insist on getting her morning love," and she wanted to be sure that she would go somewhere that would give her similar treatment.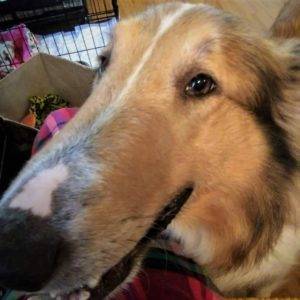 The Perfect Candidate
Lisa, like many others who came to have an appreciation for Collies, had fallen in love with them since she grew up watching Lassie on TV.
But as a child, Lisa had mutts and a very memorable Siamese cat named Natasha that never used a litter box, as she went in and out with the dogs. Rather like my Siamese-ish feline, Bobcat, Natasha may not have been entirely aware she was a cat at all. Natasha would drag her latest kill up to the house and only remove it once her prowess as a huntress was praised. Lisa had her for about 18 years.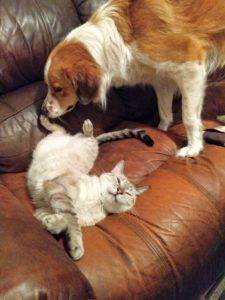 It wasn't until Lisa was an adult that she got a Collie of her own. She started with "gateway" Shetland Sheepdogs, what many people think are the miniature versions of Rough Collies. Though Shelties are in fact an entirely separate breed (with probable Spitz-type ancestry) that originated on the Shetland Islands, they were later interbred with standard Collies and do share many characteristics with their larger Collie "cousins."
The Ones Who Came Before
Sassy, Lisa's first Sheltie, came from a local breeder, but Lisa's friendship with Lynda, who worked with Sheltie Rescue of Georgia, led to her being asked to foster a Rough Collie puppy named Bailey. Lisa described her first Collie as "a handful" who seemed to hold onto some bitterness over his previous treatment.
However, Bailey was easy in the sense that he only ate when hungry and had no ambitions to get fat, unlike Sassy. As you might expect, Bailey was a complete and utter "foster fail" in that Lisa ended up keeping him. "Sassy never forgave me for bringing him home," Lisa claimed. (I can attest that while my Sir Gustav loves Yoshi and Freckles now, he sometimes seems to resent the loss of his spoiled, only-dog lifestyle.)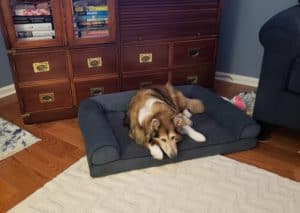 Piper, a three year old Sheltie, came next for Lisa – also compliments of her friend Lynda and Sheltie Rescue of Georgia. Piper was like Sassy in many ways, including being a foodmonger. Her assertive personality and energy provided a positive influence for Lisa's next Collie, Kali, a beautiful but shellshocked blue merle.
Kali was found ostensibly abandoned on the side of a road in Georgia. She had a tattoo from a breeder all the way in Canada, but attempts to contact the breeder or reunite her with her owner met with no success. Though no more than 3 years old, her sagging stomach indicated she had probably already produced several litters.
Originally picked up by the ASPCA, Kali also found her way to the same Sheltie rescue where Bailey had come from. (While there is no Georgia-based Collie rescue, the Florida-based rescue Friends of Collies and Shelties does service Georgia as well.) When Lisa went to meet Kali at Lynda's house, she was hiding in a closet and only came out with Lynda's coaxing. Lisa said she looked at Kali and "knew right away I wanted to take her home and make her happy."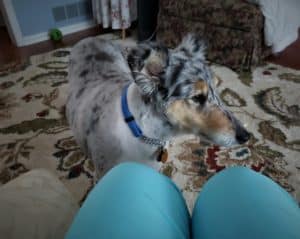 With Piper's help, Lisa succeeded in doing just that. Kali looked to Lisa for love and Piper for leadership. She had no concept of how to play with toys, but she did love playing with other dogs. Now, after 4 years of living with Lisa, Kali is "the most loving Collie" and much less fearful; but she still has no liking for men – leading Lisa to believe she must have been abused by a man at some point.
When Lisa suffered a head injury in June of 2018, Kali and Piper repaid her for rescuing them by offering the constant, legendary devotion displayed by dogs the world over. For over 4 months, Lisa couldn't go to work. Instead, she had weekly therapy sessions. "I was so glad to come home to my love bugs, she told me. "They never left my side."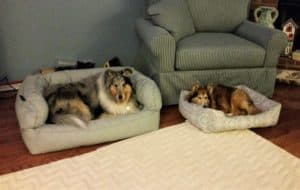 Lisa absolutely knows that her dogs have been instrumental in her healing. (Many other dog lovers, myself included, can attest that a daily dose of canine therapy is a very healthy thing, indeed.)
In June of 2019, Piper had a stroke from which she did not recover. Following a vet visit, Lisa took her home and kept her as comfortable as possible, then made the hard but selfless decision to have her put down. Lisa bravely chose to stay with her through the process, and she held Piper in her arms while she peacefully passed on.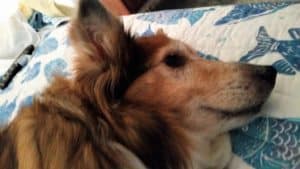 Both Lisa and Kali were brokenhearted over their shared loss. Without Piper to follow around and take cues from, Kali fumbled, but had to learn to be more independent. While Lisa was still grieving for Piper, her mother passed away in August of 2019. "It has been a hard year," she said simply.
A Home for the Holidays
When Lisa felt they were ready, she began looking for another dog again. She had checked with Lynda, hoping to rescue a fourth dog from Sheltie Rescue of Georgia, but they had no adoptable dogs available. Lisa supposed that was a good thing, in a way, but that did make her search harder.
She looked online for months and saw pictures of hundreds of dogs before finally finding Luna on Rescue Me. "When I saw Luna's sweet face," Lisa said, "I knew she was the one."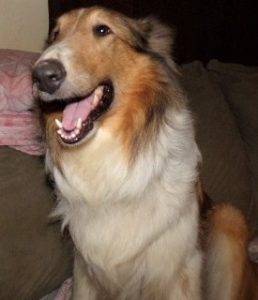 When Lisa contacted the NWGA K9 Rescue, she had several positives going for her, in Tracy's view: former experience rescuing Shelties and Collies, another Collie that still loves to run and play at 7 years old, and only working an outside job part-time. (On her neurologist's orders, though Lisa is 90% better today, she works a 6-hour workday at her office, then comes back home to finish out her 8-hour shift. She also avoids bright lights and loud noises.)
Kali went with Lisa to the meet and greet. "It was a perfect click from the moment everyone met," Tracy said. "I walked back to my car for a moment, and when I returned the girls were sitting side by side in the back seat."
Lisa also mentioned how Luna hopped right up into the back seat next to Kali, with no fighting over space. "It was like there was an instant connection," she said.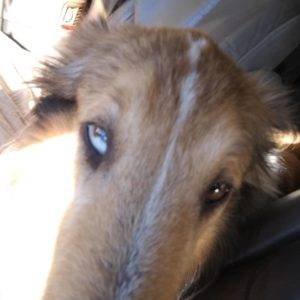 Happy Endings All Around
In my last email exchange with Tracy, she thanked me for checking in on Luna and said, "I am 100% confident she found her forever, final home!!" Thanks to Tracy, I was able to get in contact with Lisa and learn the rest of Luna's story.
When I asked Lisa if the adjustment process had been difficult or easy so far, she replied that Luna made herself right at home after they walked in the door. "Kali and I have both been sad since Piper passed away," Lisa told me, but added that Kali "always has a smile on her face since Luna came into our lives."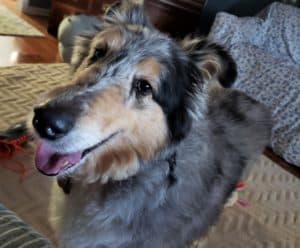 And Lisa is smiling more, too. She says Luna and Kali play together all the time, and Luna is so entertaining with her puppy personality. (At 2 years old, most dogs are still very much puppies, mentally.) Lisa loves the way they lie on the ground face to face and "kind of gnaw on each other" when they're tired but not ready to be done playing yet. Such sessions are usually accompanied by assorted bear and "wookie" noises.
Kali is such a good girl and has never been possessive of her space or things: but like a good mother, she teaches Luna lessons in proper, canine social behavior and will show her teeth to let Luna know when she's had enough of her puppy nonsense.
Young as she is, Luna is already devoted to Lisa and Kali. She doesn't take her eyes off either of them, and accompanies Lisa on the stairs of her condo, each time she goes up or down. "Luna has been an absolute breath of fresh air around here," Lisa said. She loves having both of them by her side at home.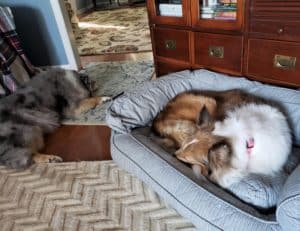 Great Level of Care
Kali only eats when hungry, which is a good balance for Luna, who is always thinking about food. Given how little food she received when living with the hoarder, that is perhaps not surprising. She may have a lingering fear that the food supply will run out, but Lisa noted with satisfaction that Luna is starting to put on more weight now.
With Lisa, Luna and Kali receive a great level of care. Lisa is aware of Collies' sensitive stomachs and disinclination to chew much, so for the sake of their dental health she boils raw bones in water with a little garlic, then spoons out much of the rich marrow to avoid diarrhea/vomiting from upset stomachs.
And, as many Collies can be finicky about treading on slippery floors, Lisa has placed rugs and runners through her house for traction in areas that don't have carpet. Basically, Luna has landed in a very good place. And, as far as Lisa is concerned, "This match is a gift from heaven."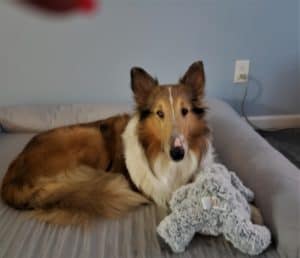 I also asked Lisa what advice she would give to someone considering rescuing a Collie, or any dog, for that matter. She stated, "Do your research first" and suggested taking into consideration size, gender, and breed, as well as how a new dog would interact with kids or other animals. Also important is whether or not you have a fenced yard and, if not, whether you can walk a dog twice a day.
It Would Be an Honor
"I think it would be a honor to have Luna's story shared with others," Tracy told me, but the truth is, the honor has been all mine. Lisa said she was very happy to work with Tracy and would highly recommend NWGA K9 Rescue to anyone looking for a dog. (That of course, goes for Sheltie Rescue of Georgia, too, if you're specifically interested in a Sheltie or perhaps a Collie.) Tracy does adopt outside of Georgia, so if you live over the state line, you're not out of luck if you're looking for a canine companion.
As one of my friends likes to say, "Dogs are so good. We don't deserve them." And the dogs definitely need more people like Tracy and Lisa who are willing to help them and give them another chance at a good life. For a while now, Tracy has been working as a vet tech plus running NWGA K9 Rescue, with only occasional help from another woman who is sometimes able to foster a select few dogs.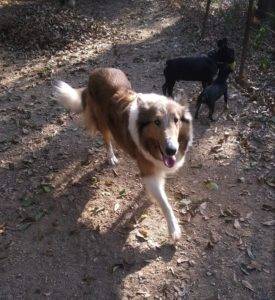 The rest of the dogs stay with Tracy, and she counts herself lucky enough to have a barn and enough property to accommodate all the animals that come her way. When I asked her how she manages everything, she said:
"I can honestly tell you there is no money pouring in for support of the animals in my care. When pets are adopted, those funds sometimes cover the expenses we have in the pet and maybe enough to get another dog vaccinated. We ask for donations and try to get people to sponsor a pet, but that rarely occurs. Since I work and care for so many animals, I have little time for fund raising."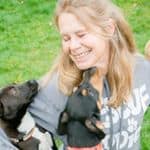 Technically Tracy's rescue is for dogs only, but she just loves helping animals in general. I saw cats and baby squirrels on the rescue's Facebook and Instagram pages. "I recently took in a malnourished Arabian horse," Tracy told me. "We have since rehabilitated him and found a sanctuary where he and another horse from our local animal shelter will be going to live out their lives."
A quote on NWGA K9 Rescue's website reads: "Some people don't understand why I help animals in need. I don't understand why they wonder."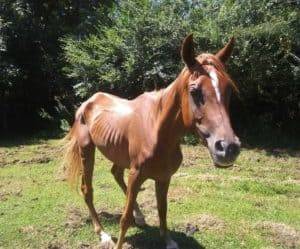 A quote on NWGA K9 Rescue's Facebook page reads: "You can do something big, or something small. No matter what you do, it's better than nothing at all. Foster. Adopt. Rescue. Advocate."
If you are able, please consider helping to foster dogs. If you can, adopt a dog. (Georgia people looking to give a dog a home can fill out the NWGA K9 Rescue application here.)  If you know a dog in a bad situation in need of rescue, contact the ASPCA. If you can't do any of those things, share this story and others like it to advocate for those who have no voice of their own.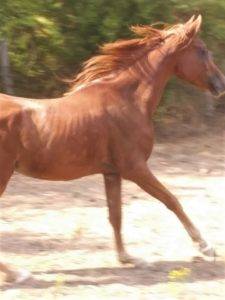 Please consider a one-time or recurring donation to finance Tracy's work or sponsor a dog. People like her help make the world a better place, and people's pets really enrich their lives, too.
If you can't give, maybe you could drop Tracy a line on Facebook, Instagram, or the NWGA K9 Rescue website to thank her for helping Luna and encourage her to keep up the good work with other animals. I suspect running a rescue is an exhausting, thankless job much of the time. Sometimes animals are better at expressing gratitude than humans are!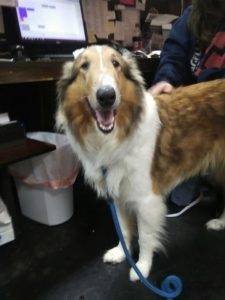 Update: Little Alex and Fat Freddy have found forever homes since this story was originally posted!