Hello, my friends with spoiled, rotten Collies! I doubt I'm the only one who has given their picky Collies countless toys, only to watch them play with the cardboard box the toys came in.
Video Description: Our Collies enjoy shredding cardboard.
I consulted with my Rough Collie, Yoshi, who explained that movement, noise, and texture are key components of toy selection. Before purchasing any toys, she suggests asking these Collie Criteria questions:
*Acceptable alternative sounds can include crinkling, honking, and rattling.
So, Yoshi and her team of Quality Control Collies would like to present some toys that met with their approval.
Here are our top 20 most recommended toys for Collies:
Cleaning up toy remains may not be much fun for us humans, but I (usually) consider the joy it brought my canines to be worth it.
If your dogs are like mine and just rip the stuffing out without ingesting it, then plush toys shouldn't pose an internal blockage risk. Often I just buy cheap toys from Dollar Tree, but I have found some soft toys my dogs will not harm.
We had a few owners reach out and say that Lamb Chop is a personal favorite for their Collies who are into soft toys. My Aussie mix has three! I call them "her babies" since they are the only plush toys Freckles won't eventually demolish: she will even count them until she's sure all three are together.
Chess, ("Lost Creek Found in the Night") from Massachusetts, USA loves her Lamb Chop! PC: Cynthia Labrecque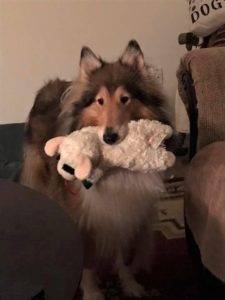 Squeaky Plush Caterpillar
This caterpillar toy is a veritable cornucopia of delight. With a squeaker in each segment and its ability to double as a tug toy, it has universal Collie appeal. Just ask Jake; your Collie won't be disappointed. (Yoshi also has a similar snake toy that is her pride and joy.)
@colliejake (the star of a favorite Instagram account) with his beloved caterpillar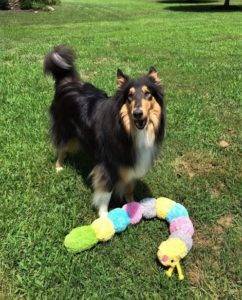 No-stuffing toys are great for Collies who love tug toys but have a habit of spreading stuff and fluff all over the house. If your Collie refuses to leave plush toys intact for any length of time or actually eats the filling, they can be an absolute waste of money and even a health hazard. Try these stuffing-free options instead.
These toys are a great option, especially because Amazon offers them in an affordable three-pack! The large size has three squeakers per toy. For whatever reason, my dogs don't feel the need to remove squeakers if they aren't surrounded by stuffing.  
Yoshi quality tests a Skinny Peltz for tug potential.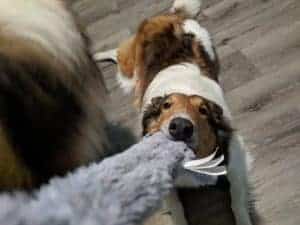 Skinneez offer a wide range of critters to select from. I'm not sure if your Collie really cares whether they're playing with a giraffe, squirrel, or fox, but I do know they make for cute photos.
Most variations of the toy contain at least one squeaky. If your dog is more into crinkling noises, there are options for that, too!
Video Description: Yoshi and Gus playing with crinkly no-stuffing toy.
I've yet to meet a Collie (Rough or Smooth) that doesn't love an occasional tug battle. Yoshi routinely brings me a tug toy when she feels that I've been stationary for too long, and even Gus – my lazier Collie – will rise to the tug-o'-war challenge.
A classic dollar store rope tug will do in a pinch, but I've found that my Collies prefer tugs that have a little more to offer.
ZippyPaws Squeaky Monkey Rope Tug
This two-handled, squeaky monkey tug is perfect for a dog-on-human tug battle! (Or dog-on-dog, as Yoshi and Gustav love to battle it out together.)
Noble and Valor from West Virginia, USA enjoying their favorite game, Tug Rope! Submitted by Linda Rippeon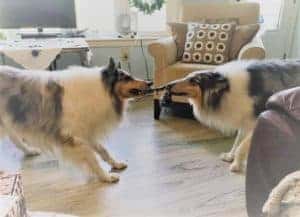 If you have more than one dog, you seriously need to invest in some good tugs. Let your dogs entertain themselves!
Toys for Fetching (or Chasing)
Let's be real: Collies are herding dogs, so they sometimes abandon interest with things you throw. Once an object stops, so does their desire to chase it.
However, some cat-like Collies will actually bat at non-moving objects to get them rolling again. Others will carry things around in their mouths. If you're really lucky, they'll even bring a toy back so you can toss it again! (Or maybe not so lucky. Yoshi is actually in the return-the-item category, and my arm tires pretty quickly.)
You may be thinking that Frisbees are typically associated with Border Collies, the more hyperactive cousins, but it's not just any frisbee that "Lassie" Collies and Smooth Collies like. No, Collies are into frisbees with holes in them! In some cases, it's not the fetching that is enticing, but having a hole just big enough for their needle noses.
Nerf's take on the frisbee is made from a lightweight material that actually floats, so it's perfect for beach days. Also, it has more of a typical frisbee structure with a curved edge for better grip when throwing.
Matilda thinks any frisbee with a hole is the best frisbee ever! PC: Ford Killeen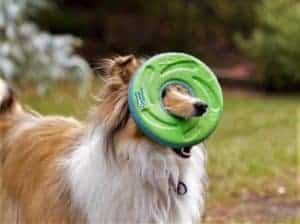 Tennis balls never survive long around here, so I've had to find alternatives. My Collies don't give a fig for most balls unless they squeak. If they also light up, bounce well, or have an intriguing texture – these are bonuses.
My female Collie, Yoshi, loves these balls, and she's not alone. Taio agrees, they are truly fun! These specific balls are great because they'll roll and bounce, but your dog can get a good grip and play tug as well. Yoshi loves any ball that she can really sink her teeth into and my male Collie, Gustav, loves to challenge her.
Taio from Denmark. Submitted by: Sylvia Bussing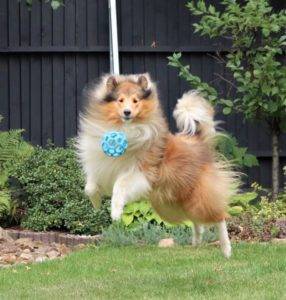 Yoshi has a squeaky, bouncy Chuckit ball that fits nicely into a corresponding Chuckit thrower/launcher, but some dogs prefer larger playthings. Jake is one such Collie, and he's here to tell you about it.
These Kick Fetch balls are fantastic for so many reasons! They float. They give dogs a better grip. They have a random bounce pattern. There's even a "glow" color option available for nighttime play. What's not to love?
Jake asking for his giant ball to be thrown again!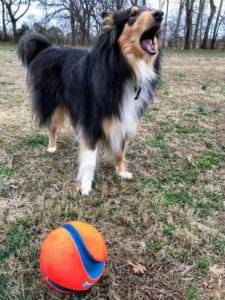 Sometimes you can't beat an old classic. Whether it's herding instincts or the desire to attack something big enough to be proud of yet small enough to kick around themselves, Collies love soccer balls! 
Now we all know Collies can be particular about their textures – so here are some recommended soccer balls:
This Jolly Ball is pet-specific, made in the USA, guaranteed not to deflate, and it even floats. Added benefits include size and color options (two of which are scented). Definitely a winner.
Titus from Pioneer Scottish Collies in South Dakota, USA PC: Denise Maher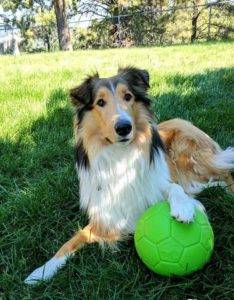 Some puzzle toys are exceptions to the general Collie Trifecta (noisy, tuggable, and shreddable) of requirements. They're definitely ideal for those higher-intelligence Collies who get bored with your average dog toy.
Hide and Seek Plush Puzzles
There are a few different versions of this, but the basic idea is a soft, squishy piece with holes in it to contain tiny, adorable creatures. Whether your Collie is a small-creature protector or predator, they'll love these interactive, unique brain-teasers.
Outward Hound Interactive Puzzle
These "hide and squeak" squirrels – ground squirrels I assume, since they look more like chipmunks – are sure to provide lots of entertainment. The toy is available in three sizes, and you can also choose from bees, birds, or hedgehogs.
Titus loves to remove his chipmunks and carry them around! PC: Denise Maher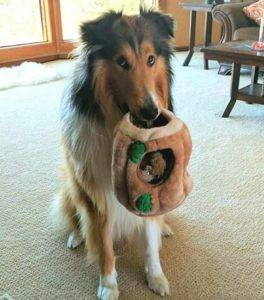 Treat dispensers are a blessing from heaven. You can sit back and take a break while your dog goes ham. Collies love to be challenged, so this is a great way to give them mental stimulation and rewards at the same time.
There are too many different kinds to go through them all, but I've listed a few of my dogs' favorites and taken notes from our Collie friends. These can range from simple to complex. Pick one that you think your Collie can enjoy, not get frustrated with.
Outward Hound Tornado Puzzle
This is how Freckles gets her kibble at mealtimes. It works great in place of a slow feeder to keep her from making herself sick, and she seems to enjoy working for her food. Once your dog masters the Tornado by itself, you can add in the bone-shaped covers later for a next-level challenge.
Video Description: Freckles and Yoshi eating treats from Tornado.
Interactive Slow Feeding Puzzle
I like this one for its versatility. The base was designed to double as a slow feeder, and the height can be adjusted to suit the size of your dog. Being both nose and paw friendly, even some cats reportedly find it amusing. (And, like many Collie owners, chances are you are also caretaker of a spoiled cat.)
Toilet Paper or Craft Rolls
Does your Collie love paper products but simply refuse to play with toys like a normal canine? Try this awesome life hack! Wiley's "pawrents" got smart and put toilet paper rolls on his neglected toys, and suddenly they became of interest. Genius! (I am truly astounded these are available on Amazon. I'm cheap: so I just save rolls from toilet paper, paper towels, and wrapping paper for my dogs.)
Wiley discovering his toys can be fun after all!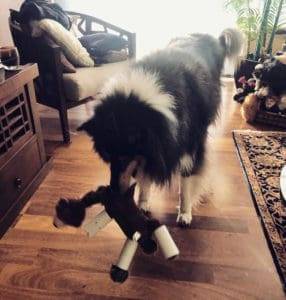 Happy Spooky Season, everyone! Have a fun and safe Halloween. Please enjoy this bonus video of our dogs playing with their latest toy, gifted by a friendly reader of the blog. It is both squishy and squeaky, so of course Yoshi was delighted.
Video Description: Our Collies playing with a new Halloween toy.