I first encountered a Collie by reading a Little Golden Book called "Lassie and Her Day in the Sun." A lifelong love affair was born.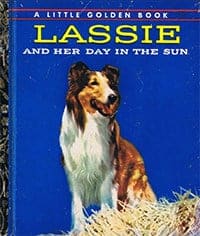 At the age of 9, I sold boxes of chocolate bars to buy my first Collie, and I've never been without one since. I'm on Collies number 5 and 6 now. Other dogs and animals have come and gone, but Collies remain my constant.
One of my current Collies is in training to be my mobility support dog. The other is  in training to be a professional nuisance. My third dog is a  rescued Australian Shepherd mix that looks enough like a Collie to confuse people. We also have a cat who tolerates us.
Collie Chatter is a place to share stories, share photos, and explore information about this wonderful breed. My hope is that this hobby blog of mine will grow to be a place for Collie lovers to gather and chatter about our mutual obsession.