Considering adding another furry friend to your household? If you already have a cat and are thinking about getting a Rough Collie, you might be wondering, "are they good with cats?" 
In this comprehensive guide, we will explore the compatibility of Rough Collies with feline friends, offer tips for socializing your pets, and discuss potential challenges and conflicts that may arise.
Are Rough Collies good with cats?
Rough Collies are known for their intelligence, loyalty, and gentle temperament. So, yes Rough Collies are good with cats, as well as, children and other animals.
However, pet owners should note that each dog, regardless of breed, is an individual with its own unique personality traits. While the majority of Rough Collies may be good with cats, there is no guarantee that every Rough Collie will be feline-friendly.
Rough Collies, like Border Collies, are herding dogs, which means they have strong herding instincts and may try to control other animals, including cats. This instinct is not naturally aggressive, but it can lead to behaviors such as chasing or nipping. While this can usually be managed through proper training and socialization, it's important to be aware of this instinct and take steps to prevent potential conflicts between your family pets.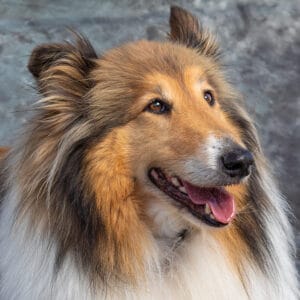 Socializing Rough Collies with cats
Socialization is extremely important when it comes to introducing a Collie to your cat or kitten. The earlier your Collie is exposed to cats, the better the chances of them developing a positive relationship. Here are some tips for successful socialization:
If possible, introduce your dog to cats while they are still a puppy. Rough Collie Puppies are more adaptable and open to new experiences, which can make it easier for them to accept a cat or kitten into their world.
When first introducing your Rough Collie and cat, make sure both animals are in a controlled environment. This may involve using a baby gate, crate, or leash to ensure the safety of both pets. Allow them to observe and sniff each other from a safe distance, and gradually decrease the distance between them as they become more comfortable.
Use treats, praise, and affection to reward your Collie for calm and gentle behavior around your cat. This will help them associate positive experiences with the presence of the cat, making it more likely that they will develop a friendly relationship.
Always supervise interactions between your dog and cat, especially in the beginning. This will allow you to intervene if any signs of aggression, fear, or stress emerge. Over time, as your pets become more comfortable with each other, you may be able to allow them more freedom to interact without supervision.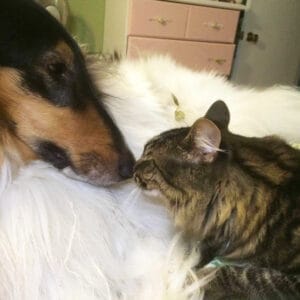 Tips for creating a harmonious multi-pet household
Once your Rough Collie and cat have been successfully socialized, there are additional steps you can take to ensure a harmonious multi-pet household:
Make sure both your cat and Collie have their own designated spaces within your home. This may include separate sleeping areas, feeding stations, and litter boxes for your cat. Having their own space will help each pet feel secure and prevent territorial disputes.
Exercise and mental stimulation
A well-exercised and mentally stimulated Rough Collie is less likely to engage in bad behaviors. Make sure your collie receives daily exercise and mental stimulation through activities such as walks, playtime, and training sessions.
Consistent training is key to maintaining a peaceful home. Teach your dog basic commands like "sit" and "stay" and be sure to enforce these commands. This will help your Rough Collie understand their place and minimize any naughtiness.
While Rough Collies and cats may play together, it's important to supervise these interactions to make sure they remain safe and friendly. If play becomes too rough or aggressive, jump in right away and redirect your pets' attention to another activity.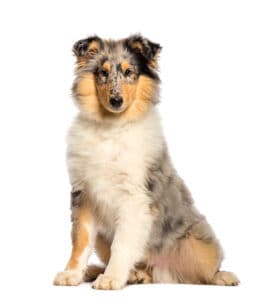 Dealing with potential challenges and conflicts
Despite your best efforts, conflicts may still arise between your Rough Collie and cat. Here are some strategies for addressing potential challenges:
Address unwanted behaviors
If your Rough Collie begins to exhibit unwanted behaviors like chasing or nipping at your cat, address it immediately. Use a firm "no" or "leave it" command, and get your Rough Collie to focus on something else. Consistency is key in training.
If conflict continues, consider creating separate living spaces for your cat and Collie. This may involve using baby gates or separate rooms to keep your pets apart when unsupervised.
If you are struggling to resolve conflicts between your cat and Rough Collie, consider consulting a professional dog trainer or animal behaviorist. They can provide expert guidance and support in helping you address and resolve any issues.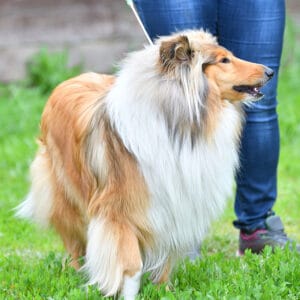 Ensuring the well-being of both pets
To maintain a harmonious multi-pet household, it is vital to ensure the well-being of both your dog and cat. This includes:
Regular veterinary check-ups, vaccinations, and preventative care are vital for both your dog and cat. This will help to ensure both pets remain healthy and happy.
Feeding both your cat and Collie a balanced, age-appropriate diet will help to maintain their overall health and well-being.
Regular grooming is also important for both cats and Collies. This includes brushing, nail trimming, and dental care.
Mental and physical stimulation
Ensuring both your pets receive enough mental and physical stimulation will help to prevent boredom and related behavioral issues.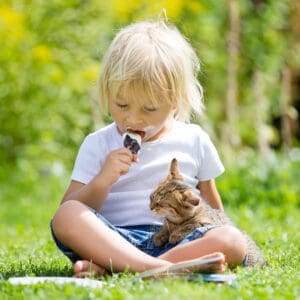 Finally, consider the following before adding another pet to your home
Remember that individual dogs may vary, and proper socialization, training, and supervision are key to ensuring a successful relationship between your Rough Collie and cat. Before deciding to add a Rough Collie to your cat-friendly home, consider the following factors:
Some cats are more accepting of dogs than others. If your cat has a history of being aggressive towards dogs or is easily stressed, adding another animal could be problematic.
Collies are active dogs that need regular exercise and mental stimulation. If you have a busy lifestyle that doesn't allow for daily walks or playtime, a Collie may not be the best fit.
Your ability to provide training and socialization
Proper training and socialization are necessary for a good relationship between your Rough Collie and cat. If you are unable to provide these, another pet may cause unwanted stress.
Your commitment to your pets
Adding a Rough Collie to your family is a big commitment that requires time, effort, and resources. Before making the decision to get a Collie, make sure you are committed to providing the care and attention all your pets need.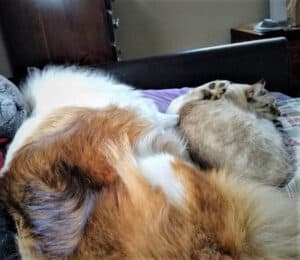 if you are considering adding a Rough Collie to your cat-friendly home, take the time to properly socialize and train your pets and ensure their well-being through regular veterinary care, proper nutrition, grooming, and mental and physical stimulation. With the right preparation and commitment, you can create a happy and harmonious multi-pet household with your furry family.
Also, if you are currently looking for a new Rough Collie puppy, be sure to check out our U.S. Collie Breeder Directory to find a reputable breeder near you.
*This article was written with the help of Chatsonic.