My personal quest to find the safest parasite protection for dogs known to carry the MDR1 (Multi Drug Resistance) gene led me on a merry chase. MDR1 is a drug sensitivity that affects the majority – approximately 70%-75%  of Rough and Smooth Collies in the USA and potentially worldwide. (There are 13 other at-risk breeds including Border Collies, Australian Shepherds, German Shepherds, Shetland Sheepdogs, and Old English Sheepdogs, plus herding breed mixes.)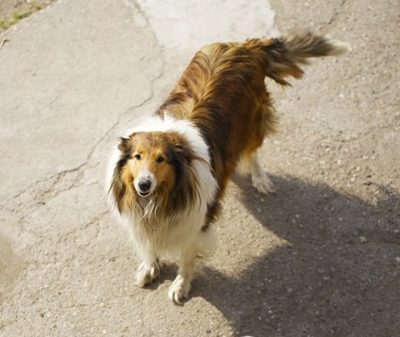 The lack of accessible information on the topic of safe parasite protection left me so frustrated that I decided to write my own article. So here's the culmination of my research: information gathered from laboratory case studies, veterinarians, and Collie owners, breeders, and exhibitors. (Basically, I did the boring work to bring you the helpful information.)
I have two Rough Collies who are MDR1 carriers and an Aussie mix, so I have a vested interest in everything I've researched. I'll list all the options I looked into (including several I've personally tried), along with whether they're considered safe to use, use with caution, or a complete no-no. If you're hoping for a quick, easy skim and just want to know which pest protections are considered safe, I'll list those first under each heading, followed by the "use with caution" category, and finally the "not safe" options.
For those of you who want proof or a more in-depth explanation of why I've given each medicine its label, feel free to read the commentary under each product and even follow the embedded links for further reading. (Some of the links lead to peer-reviewed scientific articles, so have fun with those if you want the bare, dusty facts.)
However, I have to state the disclaimer that even parasite protection products officially labeled safe from an MDR1 standpoint should really be designated "safe-ish." Most of these products are chemical compounds, and as such have more potential to cause a reaction than just, well, water. Any dog can have a sensitivity to a certain substance and should always be monitored for reactions after a new product has been administered. 
In regard to natural products, I've used some organic topicals, which I'll list later, that are somewhat effective as repellents; but unfortunately I do not know of any natural pest control products that actually work as well as chemical-based ones. This article from Your Dog Advisor  gives more natural prevention options and even tells you how to mix your own parasite preventives using essential oils and water. But remember, dogs can also be sensitive to essential oils – just like my friend who is allergic to lavender – so "natural" doesn't automatically mean "best" for your dog either. You should still keep an eye on your pet when introducing new organic products. 
Heartworm Preventative / Treatment
Bear with me for a little pharmaceutical science, which I promise is important and will make sense in the end! It's simpler to identify medicines by their components, since many of them are essentially the same thing marketed under different brand names.
All the available heartworm medications on the market are a variation of what is known clinically as a ML (macrocyclic lactone) compound. These four ML compounds (ivermectin, moxidectin, selamectin, and milbemycin oxide) have been officially approved by the FDA (Federal Drug Administration) and tested safe for MDR1 dogs when administered at the recommended preventative dosage.
However, not all ML's are created equal, and some are safer than others. If an MDR1-affected dog were to be treated for mange, that would involve higher dosages and could cause adverse reactions. Another danger often lies in a treated dog being exposed to additional environmental pesticides, which can lead to an accidental overdose.
Regardless of the heartworm product you choose, as the Institute of Pharmacology and Toxicology says, "treatment of MDR1 mutant dogs with macrocyclic lactones in general requires particular caution." It really boils down to weighing the benefits of medications against the risks from internal parasites.
Interceptor Flavor Tabs (milbemycin oxime)
Interceptor, which comes in a monthly chewable form, has been specifically tested and approved for dogs with MDR1. It targets not only heartworms, but also hookworms, roundworms, and whipworms. Additionally, it can also be given to cats and even pregnant or nursing animals.
Interceptor is the go-to heartworm preventive for many Collie parents. Many veterinary clinics keep some in stock for their clients, and it is also available at online stores like 1-800-PET-MEDS or Chewy. (If you order online, keep in mind that the company will first have to contact your veterinarian for a prescription to be issued, which may slightly delay the shipping time.)
According to a thorough study conducted on MDR1-affected dogs, Interceptor and its more affordable generic, MilbeGuard, rank high in ML safety due to their use of the compound called milbemycin oxime. Documented negative reactions were only provoked at higher-than-normal dosages and were comparatively mild, consisting of salivation, ataxia (dilated pupils), and depression.
The amped-up version, Interceptor Plus, also contains praziquantel, which is used to treat tapeworms. However, the safety of Interceptor Plus has not been evaluated for pregnant or lactating dogs, and it is not recommended for cats. Negative reactions such as vomiting, diarrhea, and tremors were only observed at supratherapeutic (higher than recommended) doses. But unless your dogs have had a problem with tapeworms (whose segments are visible to the naked eye in dog's poo), then the regular Interceptor should be fine.
Heartgard Plus (ivermectin/pyrantel)
Probably the most well-known heartworm medication is Heartgard, which contains Ivermectin.  Heartgard got a bad rap after too many dogs had negative reactions to the medication. With complaints rolling in, the company made adjustments to the Ivermectin content in their product, and Heartgard is now advertised to be "safe at the recommended dosage." But according to Dr. Judy Morgan, "Neurologic side effects are a possibility with Heartgard."
Also, some veteran Collie breeders and owners have horror stories of even MDR1-clear Collies having adverse reactions to medications containing Ivermectin. These people consider it a bad idea to give any Collie a "harsh" medication such as Heartgard, even if a genetic test reveals a dog to be normal/normal (clear) of the MDR1 gene. I follow this advice, since I'm a safe-is-better-than-sorry person. The Whole Dog Journal notes that "Ivermectin has the most potential for toxicity."
There are other risks involving Ivermectin. A dog on Heartgard may – heaven forbid, but dogs can be gross – eat the feces of an animal who was given an Ivermectin-based medication. Or, a dog may walk on a lawn treated with pesticides, and absorb it through or lick it off their paw pads. For dogs who have a case of mange or ear mites, the treatment can involve topical applications of compounds containing (you guessed it) Ivermectin.
Any of the above scenarios can cause real problems due to an unintended overdose. The bottom line is, it's best to avoid giving your Collie Heartgard or a similar medication. Unless you're, say, an expat living in China, you can definitely find a better option.
Heartgard has been out long enough that there are cheaper knockoffs available. These generics include Tri-Heart Plus, Iverhart Plus, and Nuheart. Because of their similarity to Heartgard, I've placed them in the same "caution" category. Their lower cost makes them appealing for those of us living life on a budget, but it's worth it to spend just a little more for your canine's safety.
Combination Medication (Internal/External Parasites)
The parasite protections that target multiple parasites with just one topical application or administration of a pill are extremely appealing due to their convenience. The drawback of using them is that they generally don't take care of as large a range of parasites as using two separate medications does.
Revolution, along with a product called Stronghold, tested safest in clinical trials of heartworm medications. Selamectin is their shared main ingredient. Revolution and Stronghold even tested safe over the recommended monthly dosage for dogs with the MDR1 gene, and they hold the distinction of being the only heartworm meds that did not produce any negative drug reactions.
Besides safety, Revolution is an attractive option because of its ease of application (topical squeeze-on tube) and versatility in treating heartworm, fleas, dog ticks, sarcoptic mange, and even ear mites. Since I live in Florida, Revolution is not the best choice for me as it only targets the dog tick. Still, if you live in the city and don't walk your dogs through long grass or woodsy areas, this could be a great choice for you.
Sentinel (milbemycin oxime/lufenuron)
Sentinel comes in a chewable pill form and protects against multiple internal parasites (heartworms, whipworms, hookworms, and roundworms) as well as the development of flea eggs. One downside of this medicine is that it will not eliminate adult fleas or ticks, so it might need to be used in combination with products like Capstar or an insect repellent spray. (More on those later.)
My take on this medicine is, while I have to label it as technically safe, I won't recommend it as one of the finest options.  Based on its limited coverage of external parasites, cautionary potential side effects label, and its non-endorsement for pregnant or nursing females, I decided I could do better for my dogs.
Advantage Multi (moxidectin/imidacloprid)
Advantage Multi is a spot-on treatment that targets heartworm, whipworm, roundworm, hookworm, and adult fleas. Additionally, it can be used to treat and control sarcoptic mange. Moxidectin, the heartworm-fighting portion of Advantage, is considered safe if the proper dosage is given monthly, but it did not test as well as either selamectin or milbemycin oxime in clinical trials, though it ranks above Ivermectin.
Studies have shown that the way an ML (macrocyclic lactone) is administered to an MDR1-positve dog makes a drastic difference in how it affects them. For instance, some ML's are best tolerated when orally ingested, which meant that a pill form of that particular compound was developed; but moxidectin was just the opposite.
As noted in an article by Dog Aware: "Advantage Multi, which combines imidacloprid for flea control with moxidectin for heartworm prevention, was found to cause no side effects when applied topically to affected dogs even at 5 times the recommended dose, but ingesting less than half the recommended topical dose caused extreme toxicity leading to coma in four of five dogs."
If you choose to use Advantage Multi, great care should be taken to only apply the liquid between your dog's neck and shoulder blades, where it cannot be reached by licking. Children should be kept away from the dog for 2 hours until the liquid has had time to dry, and be sure to wash your hands after application. If you have more than one dog and they engage in mutual grooming, you should probably pick a different parasite preventive.
Trifexis (milbemycin oxime/spinosad)
Trifexis is perhaps the most well-known (and frequently peddled at veterinary clinics) of this combo category. It is easily administered since it is a flavored chewable, and it takes care of heartworms and fleas. On the down side, it does not cover any ticks. If you're someone who lives in a tick-prone area or likes to take your dogs on woodland rambles (like me), this is a letdown.
According to the product description, side effects as a result of Trifexis are rare, but can be as severe as seizures or even a coma. While this study conducted on twenty MDR1-affected Collies did not reveal any adverse reactions when the dogs were given low doses of Milbemycin Oxime combined with Spinosad, the Washington State University of Veterinary Medicine does advise that "some of the combination flea+heartworm preventive products (those containing spinosad) should be used cautiously in dogs that are MDR1 mutant/normal because of a risk of serious drug-drug interactions."
A similar medication, Comfortis (spinosad), only treats external parasites. But I've given it a "caution" designation as it should not be given in combination with heartworm meds and is not safe for dogs who are at risk for seizures.
Flea & Tick Prevention: Oral
Capstar specifically targets adult fleas, so it is best paired with a product like Sentinel. It comes in pill form, starts working within 30 minutes, and will kill all the fleas on a dog within 4 hours. Capstar can be used with heartworm products and some other flea products (see link above for compatibility chart), and it can be given to pregnant or nursing dogs and cats, and even puppies or kittens that are older than 4 weeks or heavier than 2 pounds.
On the downside, its efficacy only lasts for about a day. Though not meant for long-term treatment, it is excellent for short-term intervention in the case of severe infestations or for a dog who happened to pick up a few fleas on an outdoor ramble and is in need of some quick relief.
Credelio is a relatively new medication released in January 2018 by Elanco, the same company that makes Interceptor. It is safe for use with anthelmintics like heartworm meds and has no known negative drug-drug interactions. I love that it quickly kills adult fleas and four kinds of ticks: American dog tick, brown dog tick, lone star tick, and black-legged tick. Before being approved by the FDA and released to the public, clinical trials were performed on Beagles (who are prone to seizures) and Collies (who are prone to MDR1).
Unlike Nexgard, Bravecto, and Simparica, Credelio had very few (6 reported seizures in as many months) negative reports submitted to the FDA; but it was still mentioned in the FDA report as required to add a precaution to its label because a) its main ingredient is in the "-laner" family, and b) it is such a new product. As the agency explained: "Although FDA scientists carefully evaluate an animal drug prior to approval, there is the potential for new information to emerge after marketing, when the product is used in a much larger population." (New drugs continue to be highly monitored for the first three years following their release.) 
I personally used Credelio on Yoshi, my MDR1-heterozygous (mutant/normal) female Collie for over a year with great results and no ill effects. (For those who may be wondering, the mutant/normal designation means that a dog carries one copy of a gene and is a carrier, though not affected to the degree that a homozygous, or mutant/mutant, dog would be.) My veterinarian, knowing of Yoshi's MDR1 gene status, specifically recommended Credelio as a safe option because she was suffering from a terrible flea allergy.
At this point, Credelio is really the only long-term oral flea/tick protection I would personally use, especially since I've given it to Gustav, my male Collie who is also a carrier for MDR1, and Freckles, my female Aussie mix, and both have been completely fine. However, the medicine can be passed through a mother's milk: so it is not recommended for pregnant or nursing female dogs, though it is safe for puppies 8 weeks of age and older. It should be given with food (as should any oral medication, really) to avoid a possible upset stomach.
Nexgard, Bravecto, Simparica (isoxazolines)
In September of 2018, the FDA issued a warning to all users of Bravecto (fluralaner), Nexgard (afoxalaner), and Simparica (sarolaner). Though all of these medicines had previously been approved by FDA scientists, now "data received by the agency… indicates that some animals receiving Bravecto, Nexgard, or Simparica have experienced adverse events such as muscle tremors, ataxia, and seizures."
Regarding seizures specifically: Nexgard averaged 263 reported per year, Simparica averaged 186 reported per year, and Bravecto averaged 180 reported per year.
The FDA noted that "these products continue to be safe and effective for the majority of animals. The agency is asking the manufacturers to make the changes to the product labeling in order to provide veterinarians and pet owners with the information they need to make treatment decisions for each pet on an individual basis."
Basically, while the FDA has not pulled these drugs from the market, it has asked the product manufacturers to add precautions to their labels while it continues to monitor information submitted by veterinarians, the companies themselves, and individual product users.
In light of this, I'm categorizing all three of these oral flea/tick protection chews as "use with caution," although in fairness I must note that a link between the occurrences and seizure-prone or MDR1 dogs has not been identified. 
Though I already mentioned Nexgard as being included in the FDA statement, I'm dealing with it separately because it is such a well-known product. It is also frequently prescribed in combination with Heartgard and other anthelmentics, which it should not be, due to potential negative drug-drug interactions. Most pet parents give heartworm medications in conjunction with flea & tick medications, so I'd have given Nexgard a "caution" label even before the FDA warning came out.
Dr. Judy Morgan described the case of a Beagle brought to her that was suffering from seizures, which were likely the result of or worsened by being wrongly prescribed Nexgard in combination with another medication. Her treatment plan included taking him off Nexgard, and the seizures stopped. Dr. Morgan concluded her story with: "Be your pet's advocate. If the veterinary staff can't see they are prescribing the wrong combination of medications, maybe you can point it out to them."
Flea & Tick Prevention: Topical
These can come in a few different forms: monthly spot-on, a disposable collar, or a spray. The Whole Dog Journal points out that "oral flea-control medications have been proven to be more effective than topical pesticides in both killing fleas and helping to control a household infestation more quickly." While this is true, the benefit of topical treatments is in their general safety.
However, as with any chemical compounds, caution is advised even with products deemed to be safe. According to Dog Aware, most "flea and tick control medications have not been found to cause adverse effects when used as directed, but toxicity can occur if topical products are ingested." This is why reading labels is so important. If a spot-on treatment is applied between the neck and shoulders as directed, no harm should befall a dog; but if it's applied past the shoulders where a dog can reach with its tongue, that could definitely cause problems.
Advantage II (imidacloprid/pyriproxyfen)
Advantage takes care of fleas at all life stages and is even supposed to kill them on contact, and it also covers lice. It is approved for use on puppies at least 3 pounds in weight and 7 weeks of age, cats, and even ferrets. As with any topical product, monitor your pet for signs of skin irritation, and give them a bath within 24 hours to wash it off if signs of irritation are seen. After 24 hours, it is considered waterproof and a bath, while alleviating some effects, will not offer as much relief.
The drawback of Advantage is that it does not offer any protection against ticks. If you're living in an urban setting, this product could still be a good option for you, as you're not likely to encounter many ticks in a concrete jungle. For those who like Advantage but are concerned about ticks on their dogs, the Preventic Tick Collar can be worn for additional protection. (Just bear in mind that Preventic contains amitraz, which is toxic to cats.)
Frontline Plus (fipronil/s-methoprene)
Frontline Plus targets four kinds of ticks, fleas (including eggs and larvae), lice, and mites that cause sarcoptic mange. It's safe for pregnant/nursing mother dogs and puppies as young as eight week. After talking to a variety of Collie people, Frontline seems to be the most trusted of the topical flea/tick products available. Anecdotally anyway, it is reported to have gentler ingredients and the least tendency to cause skin irritations.
An added benefit is it has been around long enough that cheaper generic products are available, some of which I've tried and found to be as effective as Frontline. (One such knockoff, Pet Armor Plus, is even available at Walmart.)
Unfortunately, the fleas are fighting back. Some parts of the U.S. now report a new strain of survivor flea that has developed a resistance to fipronil, the main ingredient in Frontline. If you live in an area where the fleas just refuse to die, you may want to consider an alternative, stronger product.
Natural Chemistry (cinnamon, clove, cedarwood oils)
For anyone who prefers to use organic instead of chemical products or would like a repellent in addition to what you are already using, this is the flea and tick spray for you! It will make your dog smell absolutely yummy while protecting them from fleas, ticks, black flies, and mosquitoes. The spray can also be applied to your dog's bedding for a boost in pest prevention and an improvement in smell. Natural Chemistry claims to kill on contact and to be safe for puppies.
The key to getting this spray to work well is to apply it well (rub against the lay of the coat while spraying the roots of the hair to get down to the skin); thoroughly (to the underbelly, legs, and paws); and often (at least once a week, more if your dog gets wet). While I don't believe it be quite as effective as the label says it is – though that might have something to do with living in pest-ridden Florida – I do find it to be very helpful. Honestly, I'd use it even if it was completely ineffective, because it makes my dogs smell delicious.
Diatomaceous Earth (fossil shell flour)
This organic powder is great for a variety of uses. Some swear by food grade DE (diatomaceous earth) as a natural dewormer of roundworms, hookworms, whipworms, and even tapeworms. (I did try to use it to deworm my cat without great success, but that could just be because I couldn't get him to ingest a complete dose at once.) However, it will not affect heartworms at all, since they do not infest the gastrointestinal tract.
It can be used to destroy bedbugs, cockroaches, ants, and even fleas. I like to sprinkle some around the perimeter of my yard and lay an inner circle around the edges of my house – which probably looks like I'm trying to keep out evil fairies and other fantasy creatures. You can even scatter some on your dog's bed. Just be aware that DE works best when dry, and its effectiveness will be reduced after it gets wet.
Rich Soil gives this excellent explanation of what DE is and how it works:
"…the fossilized remains of marine phytoplankton. When sprinkled on a bug that has an exoskeleton (such as bed bugs, ants or fleas) it compromises their waxy coating so that their innards turn into teeny tiny bug jerky. But it doesn't hurt mammals. We can eat it. We do eat it! It's in lots of grain-based foods because lots of grains are stored with diatomaceous earth to keep the bugs from eating the grain."
Seresto (imidacloprid/flumethrin)
The best thing about Seresto is how long it can do its job – up to 8 months! It is formulated to repel and kill fleas and 4 kinds of ticks on contact, provide protection from lice, and treat/control sarcoptic mange. The collar releases no odor or residue, comes with a quick release catch to prevent accidental choking, and even has safety reflectors. Though water resistant, frequent bathing or swimming (once a month or more) will reduce the collar's effective time to 5 months or less.
However, I officially can no longer recommend Seresto collars, since it is now known that they have caused seizures and death in dogs and even some reactions in humans who sleep with their dogs in their beds.  (This is for all dogs, not just for dog breeds at-risk for MDR1.) From the time that the collar went on the market in 2012 until 2020, the EPA (Environmental Protection Agency) received 1,698 reports of deceased pets. That averages out to about 212 deaths per year.
Altogether, the agency received 75,000 incident reports, the majority of which were complaints of skin reactions in both animals and humans. I've talked to Collie and Aussie owners who absolutely swear by their Seresto collars and others who are livid because they made their dogs' neck bald! 
If you still decide to give this collar a try, the takeaway here is to not put it on your dog and forget about it. As with everything else, monitor your dog for symptoms. The majority of canines will be fine, but there are enough who will react. Unfortunately, it seems most people who lost their dogs to Seresto collars simply did not make the connection until it was too late. 
If Seresto seems to be negatively affecting your dog, remove it and bathe the dog (paying particular attention to the neck area) with a gentle shampoo and multiple rinses.
K9 Advantix II (imidacloprid, permethrin, pyriproxifen)
This product has the distinction of repelling and killing fleas (at all life stages), ticks, lice, mosquitoes, and even repelling biting flies. Unlike many other external parasite treatments that only kill little bloodsuckers after they've bitten the dog, K9 Advantix claims to kill them on contact. A product this strong may not be best for a dog that has sensitive skin issues, as irritation can develop at the site of application. To help with this, the product can be applied in more than one line between the neck and shoulder blades.
Since Collies and cats go together so well, I have to include this caution for cats: "Some ingredients used to kill ticks, such as permethrin (used in K9 Advantix and other products) and amitraz (used in Certifect and the Preventic collar), are toxic to cats, which can be a problem in a household that includes both, especially if they are friendly with each other." If you have cats that share sleeping space with and/or like to groom your dogs, Advantix is probably not the best product for you. The back label warns that it "may be fatal" for cats, and advises cats and dogs should be kept apart for 24 hours following application.
Vectra 3D (dinotefuran, permethrin, pyriproxifen)
This product is not recommended for MDR1 dogs, as its main ingredient, dinotefuran, is a harsh pesticide. Also, it is not recommended for use with other medications. Vectra's brag is that it repels and kills fleas, five kinds of ticks, flies, mosquitoes, and mites; however, its use is not worth its risk. If you're looking for something that will repel parasites, a product such as K9 Advantix II may make a good alternative.
As one holistic veterinarian explains: "The Vectra 3D can have side effects which include extreme restlessness and jitteriness, described as anxiety or manic behavior. The product insert states 'Do not use this product on debilitated, aged, medicated, pregnant or nursing dogs, or dogs known to be sensitive to pesticide products'."
If you live in a seasonal region where you actually experience winter complete with freezing temperatures and snow, and your pets have been on regular pest preventive products, you can give them a break from chemicals for a few months while the insects are dormant. (Your vet or a pet store associate may recommend otherwise, but bear in mind that they also want to make money.)
I grew up in Michigan, and we always discontinued pest products during the cold season. Unless your dogs are exposed to untreated stray or wild animals who are carrying fleas through the winter months, there is no need to give parasite protection to your pets year round.
If you found this post helpful, you can leave me $1 or more tip on vocal.media or purchase one of our recommended dog products from Amazon so we can buy more dog supplies ourselves!
Get new post updates in monthly email newsletters. 
I tried to review a variety of the most well-known parasite protection products out there, but if I left out any you are curious about, leave a comment below!