If you're anything like me, you want to take advantage of the Black Friday shopping sales without risking possible injury. Deals are great, but worrying about being run over with a cart by someone determined to get that sale TV? Not so great.
Enter the great age of online shopping! Now you can get your pet products on sale WITHOUT getting trampled.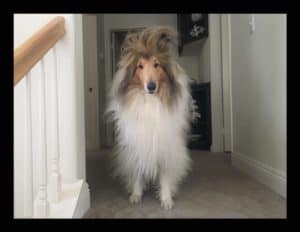 I did some retail research, for my own benefit as well as yours, to find some online items that have either been favorites of my Collies and me or were recommended by fellow Collie lovers.
Chewy's sale (up to 60% off certain products!) begins the Wednesday before Thanksgiving and runs through December 3rd (extended a day beyond Cyber Monday) until midnight EST or while supplies last. Since Collie Chatter is a Chewy affiliate, we did get a nice heads-up on sale items (but with the disclaimer that everything is subject to change).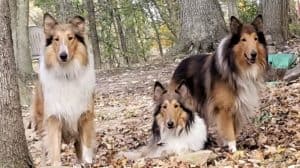 Amazon being the corporate giant that it is, they didn't send out an advanced Black Friday sale notice to their lowly affiliate, Collie Chatter. Let's be real – at this point, Amazon hardly needs to advertise. Most people know to visit the site from Black Friday to Cyber Monday in hopes that something they want will be discounted. Some sales have already rolled out! It's a good strategy to check Amazon every few hours, as the website's sales are staggered to go live at intervals.
So you can compare prices and get the best deals available, I'll include links to Collie-approved products on Chewy, Amazon, and a couple other sites that are already on sale or predicted to go on sale.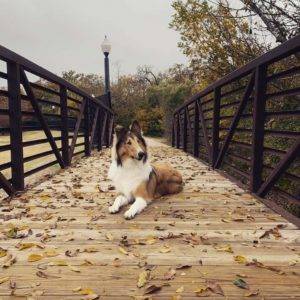 Crates
I never crate trained until Yoshi, but doing so saved my sanity and many of my material goods… This Frisco double-door dog crate was a godsend, and it is currently 20% off on Chewy. I love that it has a door on the skinny side and the wide side, plus it is easy collapsible and has a carrying handle for convenient transport. The bottom tray is made from a solid material that stood up well to Yoshi's claws (yes, she tried to dig her way out at first) and is easy to clean.
Also, for Cyber week, if you buy a Midwest dog crate, you get a crate mat free! Midwest crates are essentially same concept, different brand to the Frisco crate I own. They come in a variety of colors, sizes, and styles, including single door, double door, and expandable life stages. A crate mat could be great for an older Collie who might need a little extra cushion for their joints, but not necessarily for a Collie puppy who might see it as another thing to shred.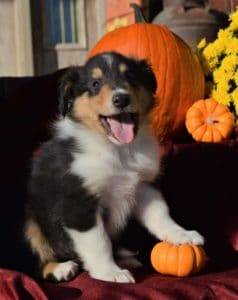 Dog Beds
Sir Gustav, my heavily-coated male Rough Collie, is not a fan of regular dog beds, but he loves his steel frame, elevated dog bed. It's sort of a hammock concept, and being up off the floor helps him stay cool in the hot Florida months. Chewy's promotion for frame beds is this: buy a Coolaroo pet bed, get a replacement cover free! (The metal frames may survive forever, but not the covers.)
Check out this similar Amazon product, which has an additional support beam down the middle of the frame and a removable, washable cover.
Some older Collies have greater appreciation for memory foam pet beds like this FurHaven one with sofa sides that Chewy is offering for 30% off. It also has cooling micro gel beads to keep our extra-furry friends comfortable.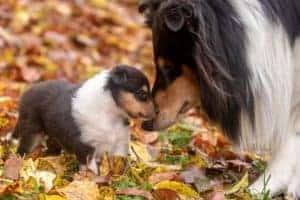 Car Seat Covers
If you take your Collie anywhere, even just to the vet, you may already know how important car seat protectors can be. Whether I've just gone to the dog park or been caught in the rain on a trail hike (poor planning, I know), I've had many occasions to be grateful for seat covers. I've also gone through several different kinds, with my favorite being waterproof ones like this Solvit hammock, which is 30% off during Cyber Week. The Solvit line also has spcecific covers for bench seats, bucket seats, and the backs of SUVs.
This similar Amazon product has the added benefit of raised side flaps to protect your car's interior doors from Collie claws. (Perfect, because mine try to stand on the inside door handles.) Also, the see-through mesh "window" gives your dog a view of the front seat, making them less likely to clamber over the top.
Leashes 
This hands-free training leash used by professional service dog trainers is my absolute favorite kind. I love that it has multiple rings allowing you to adjust the leash length, and you can just clip it around your body and train hands-free.
If you have two Collies (because they're addictive), a hands-free double dog leash like this is a real beauty. It basically has a belt that you attach a stretchy leash to, which ends in a leash splitter. Plus, it has three handles at intervals along its length for maximum control.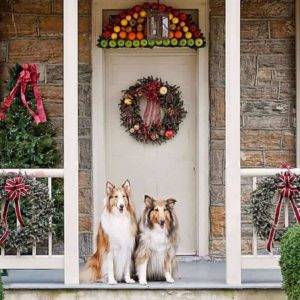 Collars
Chewy's Frisco martingale collars are half off, available in a few solid colors. Both of my Collies and my Aussie mix wear these. They don't mess up Collies' manes, and they're easy-on, easy-off. Also, martingale collars are escape proof and double as a gentle correction tool (choke collar alternative) for a pulling puppy.
If you want a little more pizzaz, these Dazzber martingale collars come in twenty different colors and patterns to choose from!
For those of you who prefer a more natural or masculine look, this leather and stainless steel martingale cinch collar is a good option. I used to have this kind for my male Collie before giving it to a friend to try as a training tool for their rambunctious puppy. It was meant to be a loan, but you know how these things go…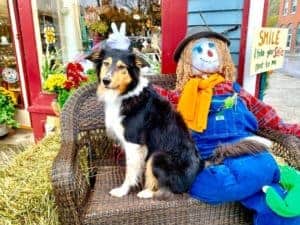 Dog Backpacks
Dog packs are not cheap, and Yoshi and Freckles have been swapping our one pack back and forth: so I was excited to see that Chewy will be selling their Kong Trek line of pup packs for 60% off! Gustav looks at me like I'm ruining him if I make him wear so much as a vest – it deflates his glorious mane, you see – but my girl dogs feel like big helpers when they get to carry their own treats and water bowls on hikes.
There is a similar Amazon product if you prefer the posh look to the sporty look for your Collie.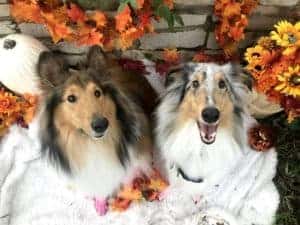 Grooming supplies
For the price, this set of grooming tools can't be beat. You get a pin brush (a Collie classic) and a marvelous long-toothed undercoat rake, plus a de-matter that you (hopefully, usually) won't need unless you fall behind on coat care.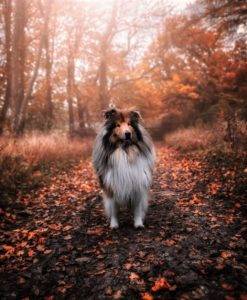 Cleaning supplies
In a previous post, I've sung the praises of my Evriholder fur removers. They. Are. Amazing. If you haven't yet gotten one, now is your chance. We used them at the vet clinic where I worked, and nothing beats them for cleaning up pet hair from bare floors, although they can also be used as a "carpet rake." The smaller sidekick brush gets a lot of use in my household for rugs, furniture, and even car upholstery.
Order cleaning products from independent distributor and Collie owner Sue Liberatore on Black Friday to receive a $10 off new customer discount and be entered in a drawing for a $25 Modere gift card. According to Sue, Modere "has non-toxic, chemical-free household products that are great for washing pet items and cleaning up messes. Everything comes with a 30 day, money back guarantee."
Sue also highly recommends and sells a health product she gives to her own Collie. Liquid Biocell for pets is a collagen-based, patented product reported to be very helpful for dogs' skin and joints. It can be used as a supplement but is most beneficial for increasing mobility in older dogs who are having a harder time getting around. One bottle will generally last a month or more, depending on your dog's weight.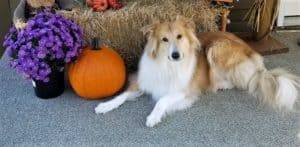 Pet Monitoring Systems
I got my Pawbo as a Cyber Week deal in preparation for leaving my pups on Christmas vacation two years ago, and I'm so glad I did. It was a vast relief being able to see my dogs, talk to them, and dispense treats – all through a connected phone app.  Chewy has their Pawbos marked 40% off, so now is the time the snatch one up!
I'm told that the Furbo is an upgrade, since it will even notify you when your dogs are barking and ask if you want to check in on them. This is a real asset for those who have vocal Collies. Furbo is compatible with Alexa and is already 20% off on Amazon, though that discount may increase considerably throughout Cyber Week.
The Furbo website itself is offering a 34% off Black Friday deal when you sign up with your email.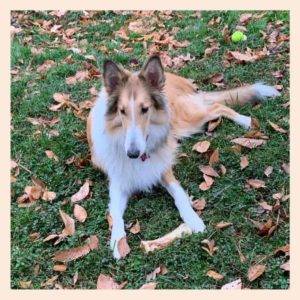 And So Much More…
I gave recommended examples, but thousands of things on Chewy will be on sale: parasite preventives, food, treats, pet clothing and accessories, chews like Nylabones and Kongs, Chuckit ball launchers and a huge variety of toys. Most sale items will be at least 20% off and many as much as 50% off, so definitely check out the site to stock up on or replace your favorites.
Again, Amazon's sale is also huge; but lacking specifics, the best bet is to compare both Chewy's and Amazon's prices to see which has the better offer on a particular product.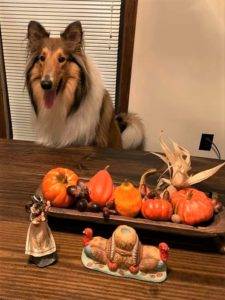 Dakota wishes everyone a very happy, not too stressful, food-and-fun-filled Thanksgiving! And happy shopping, everyone. May you find the perfect presents for your beloved pets and people.