As names go, "Marie's Magical Dinner Dust" sounds a little like a drug Marie snorts as a meal replacement, but it's an honest description of what it is. Magical? My dogs seem to think so. Dinner? Yes, I do use it to top off their dinners with some extra flavor. Dust? Well, it's essentially powdered meat protein, so yes. Meat dust.
I've been adding about a tablespoonful or two with a little bit of water into their dry kibble, then mixing it all up to make the whole meal more enticing. (Feeding instructions call for 2 tablespoons per 1 cup of dry food, water optional.) If you'd like to add in a little something to your dog's meals but aren't too keen on canned food or are worried about additives, this could be an excellent alternative for you.
We sampled the "What's Shak'n Bac'n Recipe," but other avilable flavors are "Duck Duck Goose," "Grass-Fed Beef," or "Cage-Free Chicken." The meat is freeze-dried for extra freshness, and the other 5% of the ingredients are helpful things like pumpkin and other organic fruits and vegetables, plus some additional vitamins.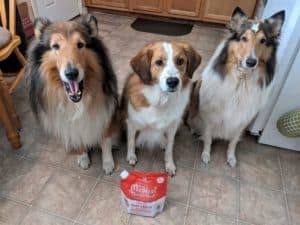 As usual, the best test for me of a product's tastiness is whether or not my cat also likes it. Collies can be particular about what they'll deign to eat, but cats, being true carnivores, are on a whole other level of picky. Bobcat also loved "Marie's Magical Dinner Dust." (I can't even type that without smirking, easily amused as I am. I'm alternately picturing what happens when Tinker Bell sneezes and what a unicorn breaking wind might look like.)
The Stella and Chewy's brand also makes a similar product called "Meal Mixers" that comes in several different flavors: pork, lamb, chicken, and turkey. Per the product description, the Meal Mixers are "Real raw nutrition in the convenience of freeze-dried nuggets; can be served as a complete meal or mixed with dry kibble to add variety with a nutritious boost and help entice a picky eater."
I might try those products myself next. On the whole, I've been very impressed with the Stella and Chewy's brand so far and haven't been disappointed in a single one of their U.S.-made products.