Both Rough Collies and Smooth Collies can be quite picky about what they'll deign to eat. This may be because many of them (like my big male Collie Gustav) have sensitive stomachs that are easily upset. In deference to his delicate GI tract, I tend to be very particular about what I give him.
So I was quite pleased to find that American Journey's beef dog treats were both a big hit and caused NO digestive issues. It probably helped that they are made of all natural beef and cured in a freeze-drying process. My dogs are quite spoiled, so they receive both "good night" and "good morning" treats. (That started as a bribe/reward for good behavior when Yoshi was a rambunctious, naughty puppy.)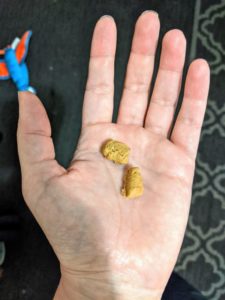 The American Journey treats are small and motivational enough to use as training treats also. Occasionally, my cat will even line up with the dogs if he feels that what they are receiving is worthy of his interest, so I think it speaks volumes that Bobcat magically appeared for his share every time the American Journey treats came out.
Here is what Chewy had to say about American Journey, which it produces as one of its own private label brands:
American Journey is committed to providing your dogs and cats with recipes that always start with real, deboned protein first, and add only nutrient-dense ingredients with never any corn, wheat or soy. Plus, they're all made right here in the USA. With a range of… treats by American Journey, you can fuel their everyday adventures.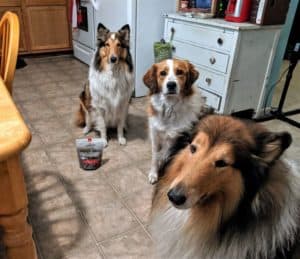 I received this product for free in exchange for my opinion, but the treats come in an affordable 3.5 ounce (99 gram) pack. If you and your pup are more into crunchy cookie type of treats, you might also want to try the even more cost-effective American Journey Peanut Butter Grain-Free Biscuits. And remember, once you reach Chewy's purchase amount quota, your products ship free!
Gus, Freckles and Yoshi are ready for their treats
* This post contains affiliate links. An affiliate link means that I may receive a small commission if you make a purchase through that link – at no additional cost to you. Such purchases help keep this hobby blog operational. Thank you for supporting Collie Chatter!