When Sophie was a puppy, she was left tied to a stake on a busy interstate median by someone who had never deserved her. In the long grass, no one could see her. She tried to cry for help, but no one could hear her over the sounds of the cars whizzing by. Exhausted and dehydrated in the summer heat, Sophie finally passed out.
Then a man came to mow the median. Miraculously, he saw her lying there before he ran her over with his riding mower. He called a shelter, who contacted Collie Concern Rescue, and Sophie was taken into foster care. (Note: Collie Concern Rescue is no longer in operation, but Tennessee is now served by Tri-State Collie Rescue.)
After some time to recuperate, Sophie went to her lifetime home with Jenna Hill. Jenna said that Sophie was "the absolute sweetest girl" and "amazing," which made it hard to fathom how someone could have abandoned her like that. According to Jenna, she "followed my boys ever since both could walk, and was my constant shadow." Sophie brought back good memories of Lassie, Jenna's first childhood Collie.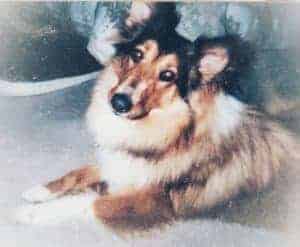 Given her ordeal, it wasn't surprising that Sophie had fears to work through – things that literally made her shake. At first, she was terrified of Jenna's husband and would hide from him behind beds inside or under the deck outside. Never fully comfortable around most men, especially if they were wearing hats, she would avoid them. And she hated lighters, even if they were only used to light candles. Sophie's new family learned the things she feared even if they didn't understand why, and they were patient with her.
When the Collie rescue checked in to see how Sophie was doing, they asked how the family was handling her constant barking. Jenna had no idea what they were talking about, because Sophie hadn't barked at all! It turned out that the foster people who had cared for Sophie reported that she barked incessantly, whether she was inside or outside. Since she wasn't doing that at their house, it indicated she was content. It seemed like Sophie knew she was home.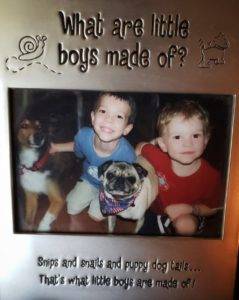 Despite her fears (or maybe because of them), Sophie settled into her self-designated role as protector of the children. They grew up together, and Sophie clearly considered herself the boys' guardian. Jenna said, "If the boys were in the yard she was there. If they were in bed at night and I was in my sewing room or wherever, she was there."
Sophie's first experience with humans was less than exemplary, but the Hills became her pack. Though she was always near the boys, Sophie never tried to herd them, even when they were small. She was content just to be with her people, the flock she chose to guard with her life.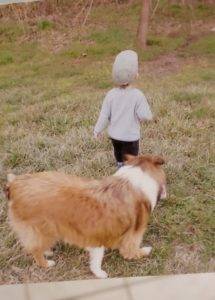 When Sophie was 15 years old, the Hills left one day to have dinner with family. They returned home to find her on the floor with her hind legs splayed out sideways in unintentional splits, unable to get up on her own. She seemed to be in pain, and they took her to their veterinarian. With his guidance and weeks of work, they got her walking again. About 4 months after splay leg incident, Sophie was able to perform a slow jog around the yard with the family's Boxer. She passed away the next day.
In the last year of Sophie's nearly 16-year life, the Hills were constructing a new house in the country, and she would go with her family while they worked on it. They chose to bury her on the property of their new home. "She definitely has her spot," was how Jenna put it. Sophie's final resting place is near her family, just the way she would have wanted it.
Her passing was heartbreaking, but Jenna is grateful for the "many wonderful years" they had with Sophie, the Rough Collie dog who was to her "basically the definition of a gentle soul."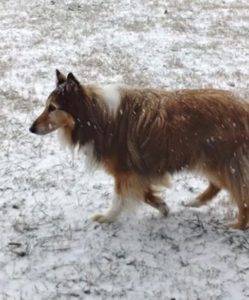 Shortly after Sophie's death, Jenna discovered The Scottish Collie Preservation society. Though Sophie's origins had been a mystery, her smaller size (42 pounds) and very manageable coat led Jenna to believe that she was a Scottish Collie.
While scrolling through Facebook one day, Jenna encountered a "picture of what was quite possibly the happiest puppy on earth" posted on The Old-Time Scotch Collie page. (The Old-Time Scotch Collie Association is another group dedicated to preserving the original type of farm Collie.) As Jenna put it: "When I saw him for the first time… he was cheesing, and he just looked so happy! I needed some happy after losing my sweet Collie girl rescue. He had a big void to fill."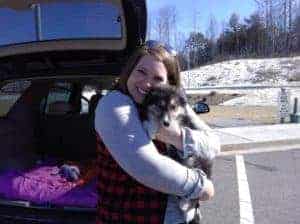 Though Jenna lived in Tennesse and McTavish was at Coyner Farms in West Virginia, she knew he was the puppy for her. And while it wasn't planned, Jenna ended up driving 2 hours to get him on her actual birthday, when he was 11 weeks old. "Tavi," as she came to call him, is now approaching his second birthday and already maturing into a great family dog and farm helper.
While no dog can ever replace another in exactly the same way, Jenna sees several similarities between Sophie and Tavi. "He follows us just as much as she did… He is sweet but very alert and will let you know if something is out of the ordinary. I could trust them both with chickens, goats, and any animal on the farm." Jenna appreciated that both were "great at recall" and would "come without hesitation." As for coat comparison, Jenna rated them both "incredibly manageable – no knots and always silky." Tavi may have a bit more filling out to do, but he is only slightly heavier and taller than Sophie.
When it comes to differences, none of them are bad. Tavi, with his more positive beginnings, is bolder, and his protective instincts seem to be stronger toward Jenna and her younger son. Sophie ate her meals without fuss, while Tavi "is incredibly picky – he wants goats' milk in his food, thank you."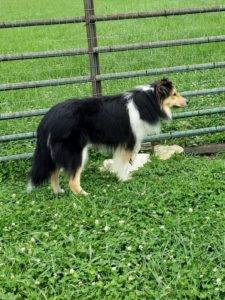 With the farm animals, Tavi is more inclined to herd them, not just keep watch over them. Jenna describes him as "more of a working dog," although Sophie, unfortunately, never got to experience the goats that Jenna keeps now. Tavi knows Jenna doesn't want her goats – especially the milkers – to be chased around, but he helps if she needs them moved. And if one "acts like she wants to run him over, he puts her in her place the way a herding dog should."
McTavish is Jenna's dog, but her boys each have dogs of their own now, too: a Boxer and a Bluetick Coonhound. The three pups make a happy pack, always playing together and getting along beautifully, despite being "so different in every way."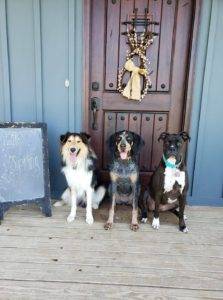 But it is Collies that have been part of Jenna's life story since she was 8 years old, and she expects they will continue to be a lifetime legacy.